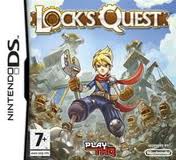 Lock's Quest is an Real Time Strategy/Tower Defense game originally released for the Nintendo DS in 2008, developed by 5th Cell and published by THQ. In 2017, Lock's Quest was ported to PC, Playstation 4, and Xbox One. The port was published by THQ Nordic and developed by Digital Continue.
The plot revolves around a boy named Lock who becomes an Archineer (combination architect and engineer) and fights an army of Clockwork robots on a quest to find his sister, Emi. Along the way, he meets many different people and sees many different locations. The game takes place over 100 'days'.
The gameplay of Lock's Quest is divided into two modes: Build and Battle. In Build Mode, the player places defenses in the form of walls, turrets, and traps. In Battle Mode, the player controls Lock directly to fight off enemies.
External Links
Edit